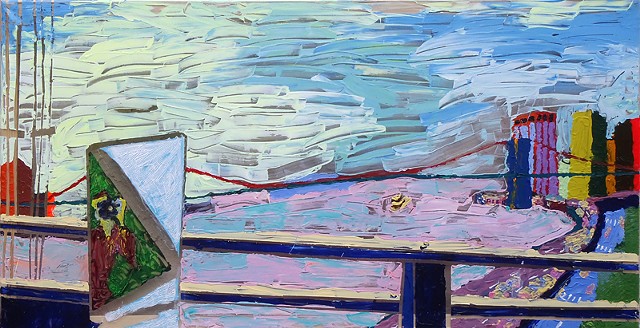 Hello my name is Nils Hasche-Vásquez, I am an Artist, Painter and Curator. I paint acrylic on vinyl and dabble in photography and screen-printing. Formerly, an art educator with a Masters of Art in Teaching from the School of Visual Arts and a Bachelors of Fine Arts in Studio Art from the Fashion Institute of Technology.
My art is submitted to exhibitions nationally and have expanded my sales to include commissioned paintings. One of my paintings was featured on CharityBuzz and sold for The Children's Brain Tumor Foundation. My artwork is has also been featured at The Masur Museum of Art's 52nd Annual Juried Competition, in Monroe, Louisiana, Juried by Sandra Firmin, Director and Chief Curator of the Colorado University Art Museum. As well as featured at Prince Street Gallery's Seventh Annual National Juried Competition, Juried by Robert Berlind.
My work has also been mentioned in a variety of publications and media to include but not limited to the Richard Oceguera Coaching Video Blogs, New York Times, Poughkeepsie Journal, All Souls Beacon, Studio Visit Magazine, Art Buzz 2014, Black Tie Magazine, Still Point Arts Quarterly, and on the Nikki Rich Radio Show.
Check out my upcoming Solo Show in Chelsea in October of 2017 at Pleiades Gallery 530 West 25th St, 4th Fl, New York. Stay tuned for further details.